Our philosophy is that every item within our gift baskets must be able stand on its own as an impressive product. That means, working with the very best brands,sourcing products from incredible Canadian and global companies and ensuring that our components are innovative, on trend and premium in every way.
Doing our best to avoid products and brands that are available at mass grocery, we want to ensure that you're not only gifting the best, but that you're also receiving that extra level of quality in forms of exclusivity in our brand.
Some of these fantastic brands include; Anto Yukon, a bath and body company based in Powell River, BC who's entire foundation is built on the natural world and inspirations from nature and landscapes. Tealish, one of Toronto's finest loose-leaf tea shops that is dedicated to creating products that help you get back to living your best life. Certainly not least, Kocostar, purveyors of the most lavish at home beauty products that focus on being good to yourself.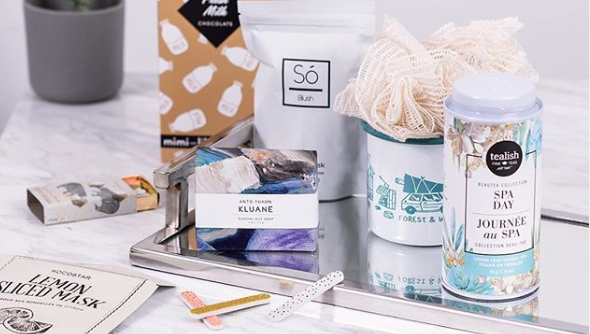 It is our promise to you that while beautiful all put together, when unwrapped, every product is a "wow."
You can find the products featured here throughout our collection For Her and our Spa Day gift basket.
Happy gifting.