Overflowing with fresh, rejuvenating scents or lavender, lemon and more, Me Time is filled with the most luxurious and trending spa gifts that are perfect for some much needed self-care during times of social distancing and self-isolation.
Me Time features self-care products like KOCOSTAR's Lemon Sliced Face Mask, perfect for keeping your skin reinvigorated and glowing, "Relax" bath soak from K'pure Naturals, the most delicious and indulgent treats and so more!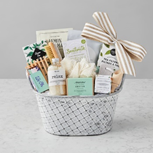 This trendy gift for her is the perfect selection for birthdays, anniversaries, thank you, and any other occasion in need of celebrations.
For more great gifts of pampering, visit our For Her and For Him collections as Baskits.com.