The coziest of gifts, Collingwood offers the most luxurious selection of Canadian favorites paired with a stunning 100% cashmere throw. Perfect for when you want to go the extra mile with a gift!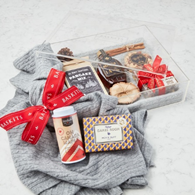 The pièce de résistance of this set is the high-quality blanket made from cashmere – one of the most sought-after fibers in the world. The material can be hard to find in Canada so we worked directly with a supplier in Mongolia to source it.
Cuddle up in this blanket while you enjoy some quintessentially Canadian treats like Tealish's Maple Loose Leaf Tea and Fraktals' Milk Chocolate Buttercrunch. Breakfast is also sorted with an artisan pancake mix and a gorgeous bottle of 100% Pure Canadian Maple Syrup.

Need help choosing a gift to "wow" your recipient? Our team of gift specialists are experts at what they do and are waiting to help! You can call us at 1-800-561-9177 or send a request to help@baskits.com.