Take a break from the same-old tea bags you've been using and say hello to a brand-new tea that invigorates your soul while warming your body. Tealish is a contemporary tea boutique that takes the word "boring" out of your tea vocabulary. Try something new, healthy and delicious and gain a brand new perception of what tea is really meant to be. Tealish was formed back in 2005 with the goal of producing loose leaf premium tea in a variety of vibrant and fresh blends. This tea boasts a rich, sensory culinary experience that is unrivaled by other tea bags. Premium quality teas are combined with healthy and colourful ingredients such as flower petals, nuts, fruit pieces and fragrant spices to provide the best flavour. Tealish tea can be enjoyed either hot or cold! Tealish is providing a modern twist on an age-old beverage that is healthy and soothing- consisting of whole leaf estate tea that's been hand-picked. When you combine this with gourmet ingredients and eco-friendly and fancy tea sachets, you'll never want to go back to boring again. Enjoy the delightfully satisfying and wonderfully delicious Tealish tea in these Baskits, and more: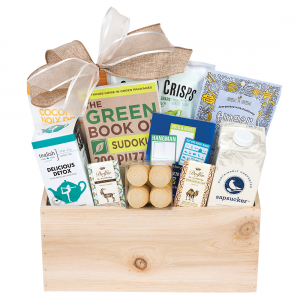 The perfect Get Well or Thinking of You Baskit. Filled with delicious pick-me-ups from Sapsucker all-natural maple tree filtered water, Gem Gem gluten-free candies, Snapea Crisps, Dolfin Belgian milk chocolate bars, Tealish whole-leaf tea, and more, including interactive game pads to keep them entertained!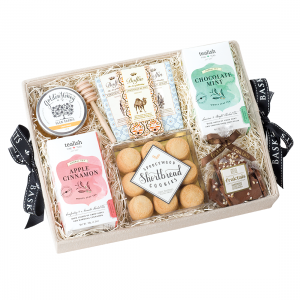 An impeccably designed tea-and-treats gift. This multi-functional linen gift tray is filled with three decadent Dolfin Belgian chocolate bars, two Tealish premium whole-leaf teas, Fraktals handmade Belgian chocolate buttercrunch, eighteen mini shortbread cookies from Sprucewood, and locally sourced honey to sweeten it up just a touch!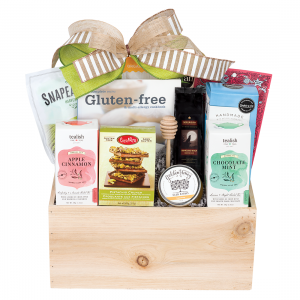 Introducing our exclusive gluten-free Baskit! This sweet-and-salty combination is certified delicious and guaranteed gluten-free with top notch products like Cookie It Up handmade blueberry shortbread cookies, Coco Mira pistachio crunch, Tealish premium whole leaf teas, Muskoka Roastery Coffee Co. handcrafted coffee, Elan organic coconut pieces, a gluten-free cookbook, and more.