Ever bite into a piece of chocolate and feel your taste buds begging for more? Saxon Chocolates knows exactly what you want. Their sophisticated gourmet experience will have you reaching for more and more.
Saxon Chocolates was founded with the desire to bring Belgian styled gourmet chocolate to North America. These fine, gourmet chocolates made in small batches, use pure and carefully sourced ingredients to create exquisite smooth, rich flavours. From their peppermint bark, to holiday and gourmet treats, we are proud to carry these confections in our Baskits!
Need these chocolates in your life? Take a peek into some of our Baskits that carry Saxon Chocolates right here: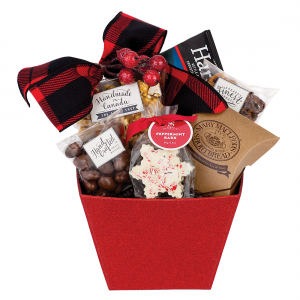 This dazzling gift for the Holiday Season is filled with Mary Macleod's buttery shortbread cookies, chocolate-covered nuts and pretzels, and Saxon Chocolates festively crafted sweets that are almost too gorgeous to eat... we said almost!
A lavish display of premium savoury-and-sweet products that will leave your recipient well and truly wowed! Featuring a beautiful handcrafted wooden trunk, Hazelton epitomizes good taste with smoked salmon pate, Balzac's organic coffee, pure Canadian maple syrup and pancake mix, decadent creamy brie cheese, an abundance of indulgent chocolates, and plenty of other scrumptious treats.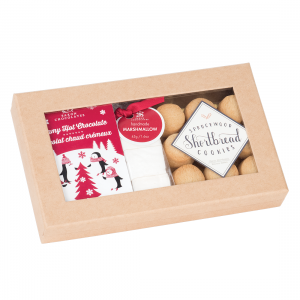 A caring way to warm up someone's day! This sweet gift set comes with three oversized fluffy white marshmallows, two packs of Saxon Chocolates decadent hot chocolate mix, and eighteen Sprucewood mini handmade buttery shortbread cookies, perfect for dipping!