Baskits is proud to be introducing Ringley as a part of our baby collection. Made in Toronto, Canada, Ringley's high quality teethers are perfect for any child! Using untreated Maple wood, known for its antibacterial properties and for being one of the strongest and safest types of wood for children to suck on, as well as 100% organic cotton terrycloth, Ringley is an award winning international success story.
Ringley's soothing teething toys are distributed worldwide, taking inspiration from nature and the animals our babies love! Created by Momma Goose Products, Ltd, superstar mom Juliane created the brand to provide natural and safe baby products. On top of that, all Ringley products are BPA-free and contain no PVC or parabens – completely safe for our children! Now, parents can feel safe about the toys babies are putting in their mouths!
Find Ringley's teethers in some of our Baskits below: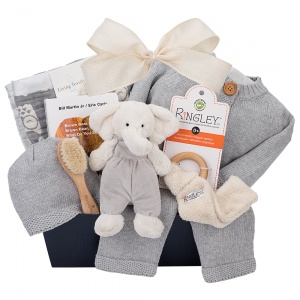 This charming baby Baskit has it all! Showcasing a plush and snuggly Jellycat velvet elephant, a natural Ringley teething toy, a modern owl-patterned baby blanket by Living Textiles, a 100% cotton grey knit outfit, the classic Brown Bear storybook, and more gifts both baby and parents will love.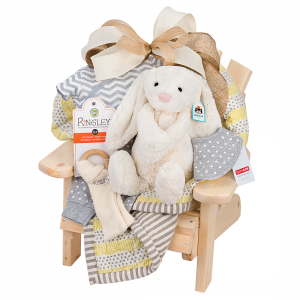 Bunny is one of our classic gifts designed to be treasured for years to come. Sitting on top of a handmade children's Muskoka chair is an adorable large Jellycat plush bunny, a Ringley organic teether from BC, a stylish reversible quilt by Pehr Designs, and a Skip Hop baby outfit that is just too adorable!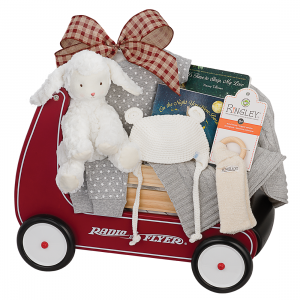 What better gift is there than one that makes memories? First Steps is a luxurious and thoughtful gift that any baby would love to grow into. Featuring a Radio Flyer classic red walker, a Bunnies By The Bay cuddly plush lamb, a Ringley natural teething toy, two classic bedtime story books, Skip Hip baby clothing, a Beba Bean knit hat, and a 100% cotton cable knit blanket.