The internationally recognized lifestyle brand, Pehr Designs, with a mix of products for the home, was launched by Jennifer Kelly and Rebecca Perren in Canada in 2010. These mom boss founders design modern products that can truly transform your home. They even launched their own trendy baby collection in 2013, known as Petite Pehr. With their love for aesthetics and design, they can help anyone achieve modern, sophisticated looks by simply 'pairing' different designs and colours from their collections.
Baskits loves Pehr and Petite Pehr because of their mix of designs from colourful mice to bunnies and more! Their products are the embodiment of cute and sophisticated. This is why we are so excited to be introducing the brands we work with – and where you can find some of these products in our Baskits!
Find Pehr Designs & Petite Pehr in some of these popular Baskits: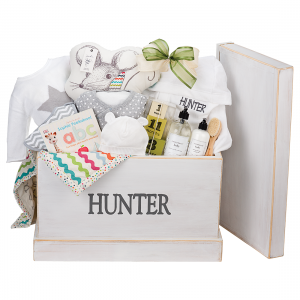 Our most luxurious baby Baskit! Lollypop is a treasured personalized gift that will blow them away. A gorgeous hand-carved white wooden trunk with a removable lid, this gift is designed with high-end baby brands from Pehr Designs (pillow and blanket), a personalized cozy bathrobe, Lovefresh 100% all-natural baby skincare products, colourful age milestone blocks, Sophies ABC storybook, 100% cotton patterned onesie and hat, and more. This is the gift to take their breath away!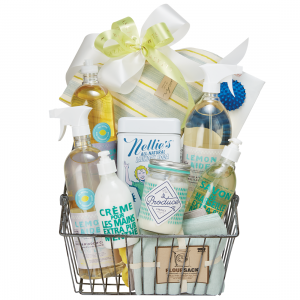 This modern wire Baskit of all-natural cleaning products is the perfect gift to send to any home. Filled with premium products from coveted brands like Nellies All Natural, Pehr Designs, Modern Apothecary, and Produce: this house-and-home gift is the ultimate thoughtful gesture!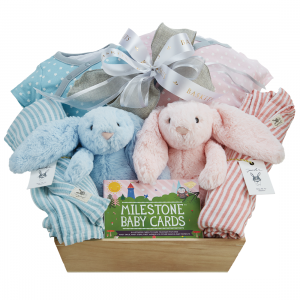 This delightful, natural wooden tray is lovingly filled with two cuddly Jellycat plush bunnies, two Petit Pehr Designs classic striped swaddle blankets, two cute matching Skip Hop star cotton onesies and a set of colourful milestone baby cards.