A Healthy Home Is a Happy Home
Nellie's is an all-natural company featuring eco-friendly and healthy cleaning products that you can use in your home. Today you can make the switch over to a healthier lifestyle by incorporating safe cleaning products into your home!
Nellie inspired the line of healthy home products through her real-life values and her belief in simplicity and honesty. Long before going green became popular, Nellie was initiating a green trend herself. Every fragrant stick, laundry nugget, and dryer ball made by this company contains no irritating phosphates or toxins. These hypoallergenic products are also eco-friendly and biodegradable- to help keep the world a better place.
Best of all, these all-natural cleaning supplies provide an exceptional clean without harming you or the environment. Nellie's phosphate-free Automatic Dishwasher Powder can take on any dried-on food and grease left on your dishes and make them spotless.
Nellie's All Natural laundry soda is highly concentrated, so you'll get more for your money. You'll only have to use 1 tablespoon of it for a regular size laundry load. There won't be any residue left behind on your clothing since this all-natural soda is free of phosphates, toxins, gluten, SLS, SLES and fragrances. You'll be able to experience residue-free clean clothes that sparkle.
We are proud to feature some of Nellie's All-Natural cleaning products in these fine Baskits: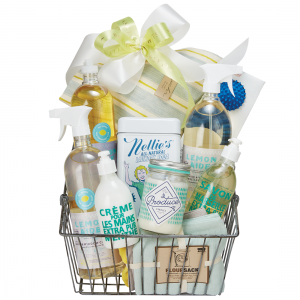 This modern wire Baskit of all-natural cleaning products is the perfect gift to send to any home. Filled with premium products from coveted brands like Nellies All-Natural, Pehr Designs, Modern Apothecary, and Produce: this house-and-home gift is the ultimate thoughtful gesture!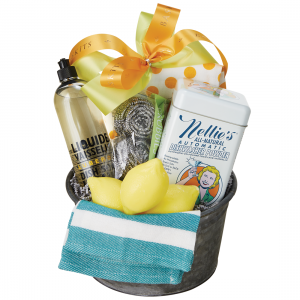 A zesty combination of modern kitchen essentials. Featuring brands like Nellies All Natural cleaning products, Savon de Marseille dish soap and playful lemon-shaped soap bars, along with stylish cotton tea towels. The perfect gift to send to a new homeowner!