Still searching for that perfect artisanal chocolate bar? Mast Brothers, a New York-based chocolate company, was founded by Rick and Michael Mast in 2007. They are makers of signature chocolate bars, beverages, and confections. Recognized by their unique packaging designs, this brand originating from Brooklyn makes its designer chocolates from "bean to bar". From sheep milk chocolate to vanilla chocolate, Mast Brothers offer a variety of flavours, each beautifully wrapped in unique packaging. Available in specialty shops across the globe, Baskits is proud to hav Mast Brothers as one of our featured brands. Find decadent Mast Brothers chocolate in these gourmet Baskits: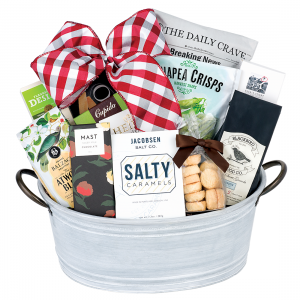 This shareable Baskit embodies all things with style. From designer chocolates by the coveted Mast Brothers brand, proud leader in the emerging vanguard of American Saltmakers: Jacobsen Salt Co. chewy caramels, Balzacs organic coffee, Snapea Crisps, and other delectable treats to enjoy.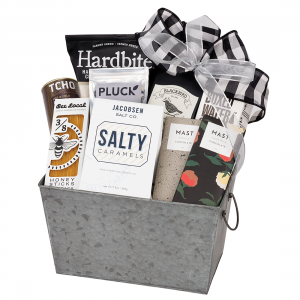 One of our newest and most modern gifts! Inspired by the trendy Dalston district in London, UK, this sweet-and-salty Baskit is filled with unique products and an artistic flare. With brands like Mast Brothers abstract chocolate bars, Bee Local honey sticks, Blackbird handcrafted granola mix, Pluck Tea loose leaf black tea, and even boxed water, Dalston is bang-on trend!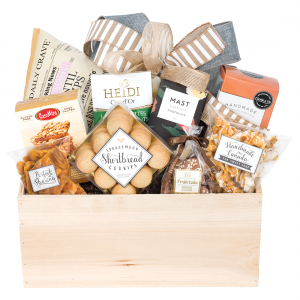 A stylishly shareable Baskit filled with Artisanal products like Cookie It Up handmade cookies, Coco Mira gluten-free chocolate-covered toffee crunch, Mast Brothers delicious chocolate bar, The Daily Crave lentil chips, and plenty more to enjoy with others.