Here at Baskits, we are extremely passionate about the brands we work with and believe strongly in only carrying products we personally love. Our weekly spotlight goes to Lovefresh, a Toronto- based luxury line of all-natural beauty products. The surprising part about Lovefresh is that it started in the very comfort of Stacey Davis' home. Today, it has grown into an incredible collection of natural, non-toxic and specialty beauty products to give every woman that 'easy luxury' experience they are searching for.Keep an eye out for Lovefresh in our Baskits.
The unscented Hand and Body Lotion, both paraben and petroleum free, has a rich and non- greasy formula using a "Kimchi" as a natural preservative. Your skin will never have felt more hydrated! We love using this as our go-to daily moisturiser!
The Pear, Hand and Body Wash is free of harsh detergents. Using only premium ingredients like elderflower and chamomile, this wash offers the perfect gentle cleanse you need. We love its delicate scent!
Lovefresh Luxurious spa gifts can be found in these Baskits, and more: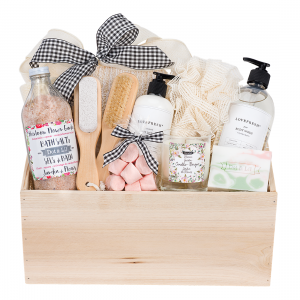 Send this modern spa Baskit to someone who deserves a little Me Time. Containing the finest spa products, she will love everything about this gift. With Dot & Lil bath salts, a soft loofah, Lovefresh 100% all-natural lotion and body wash, bath bombs, and other thoughtful items.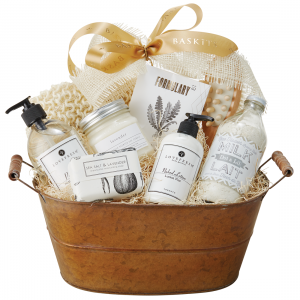 This elegant keepsake copper base is filled with exquisite spa products to help restore her inner glow. Showcasing Lovefresh 100% all-natural lotion and body wash, a massaging wooden bath brush, Formulary 55 sea mineral foot soak, an elegant candle, soothing bath milk, and more!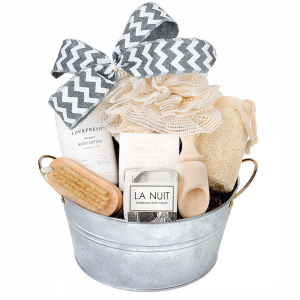 Create an oasis for someone special by sending this modern spa gift. With Lovefresh 100% all-natural body lotion, Formulary 55 La Nuit bath tablet, a handcrafted nail brush, a loofah sponge, and more all neatly displayed in a reusable metal base.