Jacobsen Salt Co's flake and kosher sea salts, harvested from the cold waters of Netarts Bay on the Oregon Coast, are recognized for their beautiful and pure taste, texture, and appearance. On top of that, these salts are used by chefs and home cooks worldwide.
As a leader in the emerging vanguard of American Saltmakers, Ben Johnson founded Jacobsen Salt Co. in 2011. With their mission grounded in craftsmanship and community, this brand hopes to provide the best elemental cooking ingredients and pantry staples items – from their assortment of pure and infused sea salts, to their sister company, Bee Local and Black Bird salty sweet granola. What makes Bee Local different is that their honey is always raw, never blended, and gently filtered. Not only are the flavours and health benefits preserved, but unlike other honeys, Bee Local makes sure their honey retains pollen.
You can find these excellent products in these Baskits favourites, and more: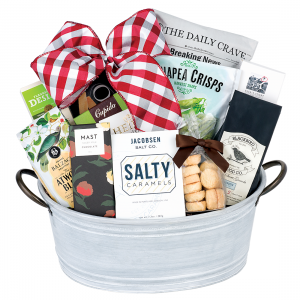 This shareable Baskit embodies all things with style. From designer chocolates by the coveted Mast Brothers brand, proud leader in the emerging vanguard of American Saltmakers: Jacobsen Salt Co. chewy caramels, Balzacs organic coffee, Snapea Crisps, and other delectable treats to enjoy.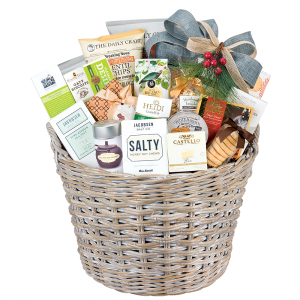 A beautifully displayed work of art! This stunning savoury-and-sweet Baskit is brimming with Pierre Biscuiterie Parisian cookies, Balzacs organic coffee blends, creamy brie cheese, Artisanal crackers, exotic salts from Jacobsen Salt Co., handmade shortbread cookies, maple glazed smoked salmon, decadent rich chocolates, and so many more delights.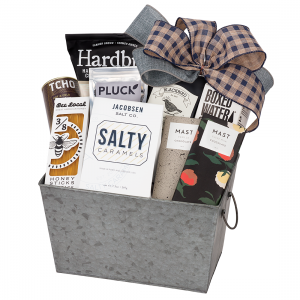 One of our newest and most modern gifts! Inspired by the trendy Dalston district in London, UK, this sweet-and-salty Baskit is filled with unique products and an artistic flare. With brands like Mast Brothers abstract chocolate bars, Jacobsen Salt. Co chewy caramels, Bee Local honey sticks, Blackbird handcrafted granola mix, Pluck Tea loose leaf black tea, and even boxed water, Dalston is bang-on trend!