Since 1984, David Glen's homemade jams, vinegars, and preserves impressed both friends and family. With recipes originating from cookbooks inherited from Great Aunts and Grandparents, David adapts to these to deliver superior full flavoured jams and marmalades. Without added pectin, preservatives, or compromises, David's products are cooked quickly at high heat and handcrafted in small batches! These jams are even packed with chunks of tender, soft, and flavourful fruits; not only do you get more fruit, but also less sugar!
With Baskits' customized labels for these jams and preserves, we are excited for you to get a taste of Glen Farms! Find these delectable Glen Farms products in these Baskits favourites: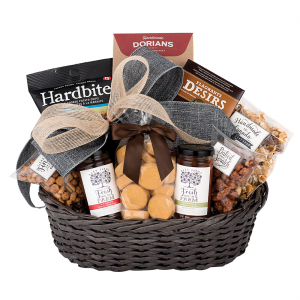 This Baskit offers a classic combination of flavours! A thoughtful gift filled with gourmet spreads from Glen Farms, indulgent chocolate treats such as Flagrants Desirs chocolate bars, and other delights that anyone at the office or at home would love to receive.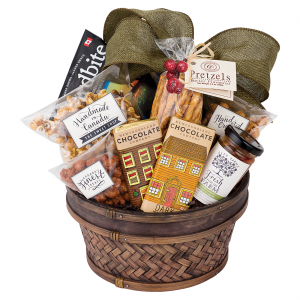 Whether it's for an office, individual, or just-because gift, Stratford has a variety of flavours including Glen Farms vegetable antipasto, The Newfoundland Chocolate Company premium chocolate bars, Hardbite handcrafted kettle-cooked chips, indulgent sweet popcorn, and other treats to enjoy.
Send this sweet escape with the best brands north of the border! Featuring Pluck Tea, Glen Farms Ontario liquid honey with a wooden drizzler, Mary MacLeod's maple shortbread cookies, and sweet indulgent popcorn.