"A little too much is just enough."
Fraktals is Belgian chocolate cashew buttercrunch handmade in Aurora, Ontario. By sourcing the highest quality ingredients, Fraktals gives everyone that mouth-watering taste experience they deserve. Using organic maple syrup in their buttercrunch core, these treats have two layers of Belgian chocolate (original milk and new 70% dark chocolate), and are finished with raw cashews. This artisanal treat is handmade in small batches from the stirring of the buttercrunch to the hand tied ribbon. On top of that, Fraktals is proud to be non-GMO and gluten-free with no preservatives.
Find delicious Fraktals goods in these Baskits, and more!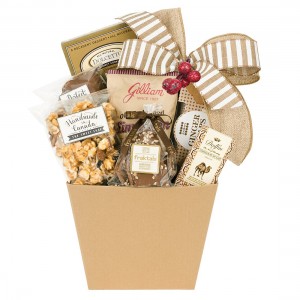 Calling all chocolate lovers! Filled with exquisite products like Dolfin Belgian chocolate bars, Fraktals handmade chocolate cashew buttercrunch, the classic taste of Whittaker's chocolate bars from New Zealand, all-natural Dolcetto vanilla wafers, and more chocolatey delights!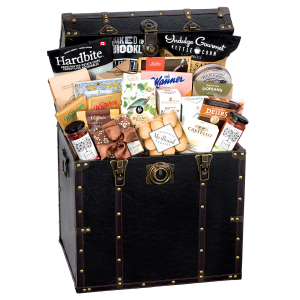 This luxurious black trunk is brimming with a collection of savoury-and-sweet gourmet delicacies. Lavishly filled with smoked salmon pate, artisanal crackers, Fraktals chocolate cashew buttercrunch, creamy brie cheese, Balzacs organic coffee, Taylors premium tea blends, Mary MacLeods handmade all-butter shortbread cookies, Maldon sea salt flakes, and many more savoury-and-sweet delights.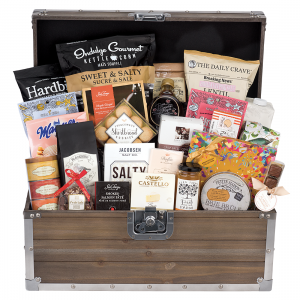 A lavish display of premium savoury-and-sweet products that will leave your recipient well and truly wowed! Featuring a beautiful handcrafted wooden trunk, Hazelton epitomizes good taste with smoked salmon pate, Balzacs organic coffee, pure Canadian maple syrup and pancake mix, decadent creamy brie cheese, an abundance of indulgent chocolates, and plenty of other scrumptious treats.