CRUX Supply Co. creates handcrafted, all natural and organic men's grooming products as well as curated vintage wears. Filled with aromatic scents, their shave oils to grit bars, are perfect for every gentleman. These products are chosen for their power to carry stories of work and adventure from one generation to the next. At CRUX, they pride themselves on being a premium vendor for reliable, well-designed goods.
Fine goods for fine men.
Baskits is proud to be working with CRUX Supply Co. for our men's spa collection. Find these products in our popular men's Baskit, GQ:
GQ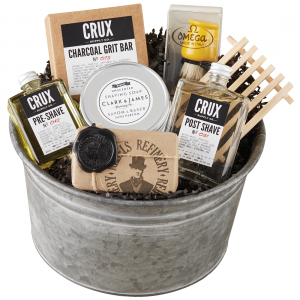 Ideal for men of any facial hair status! Our GQ Baskit features the best of the best shaving products from CRUX Supply Company pre-shave oil, post-shave tonic, charcoal grit bar, Rebels Refinery organic bar soap, to Clark and James shaving soap: all neatly displayed in a keepsake modern base.