Boxed Water - Water Never Tasted This Good!
Take a second look at how you think about packaged water. Today, you no longer have to settle for potentially toxic plastic water bottles. There is an alternative in the form of boxed water and once you make the switch you'll never want to go back to plastic water again. Boxed Water believes in reducing our carbon footprint on this planet and gives you the opportunity to join the cause by switching over to an eco-friendly water choice.
This company is committed to eco-friendly solutions for the environment and 1% of its yearly sales support water relief and reforestation efforts through its partnerships with Water.org and The National Forest Foundation.
Boxed Water provides refreshing and pure water that has passed through a 5-step process of filtration. This gives it a refreshing, clean and crisp taste that's simple. The water is purified with reverse osmosis, carbon and UV filtration and is free of fluoride, chlorine, MTBE, arsenic, trace pharmaceuticals and chromium.
This is an innovative new water packaging whose time has come. When you want to do something for yourself and help the environment at the same time, take a look at your water options. Boxed Water contains a purity of taste that can't be found in any other water source.
Baskits proudly presents Boxed Water as one of the products that we use in our newest luxurious gift baskits, like the Dalston: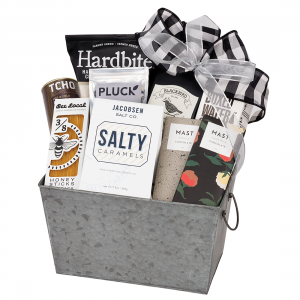 One of our newest and most modern gifts! Inspired by the trendy Dalston district in London, UK, this sweet-and-salty Baskit is filled with unique products and an artistic flare. With brands like Mast Brothers abstract chocolate bars, Bee Local honey sticks, Blackbird handcrafted granola mix, Pluck Tea loose leaf black tea, and even Boxed Water, Dalston is bang-on trend!