Lisa and Peter Malcic's success of the Pee-pee Teepee led to their creation of Beba Bean and their wide range of innovative products babies love and parents can't live without.
With Lisa's background in fashion and experience working for local design companies, she had a passion for collaborating with other visionaries, but also hoped to own her own company. When her second child was born, a son, she realized no products existed to specifically help prevent the accidental wee-wee. Peter knew there was something that could help – the Pee-pee Teepee was born!
Peter on the other hand, grew up with entrepreneurialism in his blood. As an inventor by nature, the pee-pee teepee had overwhelming success from the beginning. With Lisa and Peters' combination of passion and skills, they've added products to their line from knitwear, to blankets, shoes and toys.
Baskits loves their story, which is why we choose unique products like these for our baby collection.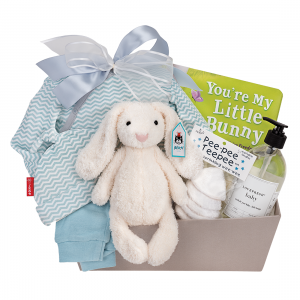 For the little bundle in blue! Send this sweet Baskit to their new baby boy. A stylish Skip Hop outfit (onesie, hat, and pants), a Jellycat plush white bunny, Lovefresh all-natural baby wash, Youre My Little Bunny storybook, and BCs Beba Bean pee-pee teepees.