As spring is all about fresh starts, hosting a baby shower is an especially memorable occasion. You should also make sure you have the perfect baby gift in mind for the expectant parents to make the baby shower particularly special. The most recent spring baby trends are included in our baby gifts that are perfect for springtime baby showers! From springtime onesies to spring baby shoes!
CELEBRATE THE LITTLE ONE WITH NEW BABY GIFTS THIS SPRING
Share the happiness of a new bundle of joy with a thoughtful newborn baby gift. Our spring baby gift baskets are sure to bring smiles to proud parents. Whether looking for personalized baby boy gift baskets, baby girl gifts, or a gift basket for the new parents, we have something for everyone! Congratulate the new parents with an adorable baby basket they're sure to love and enjoy during the spring season!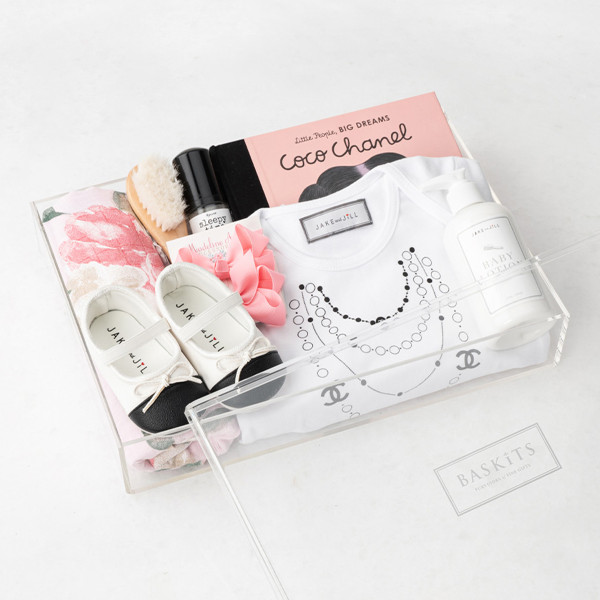 Little Lady: A beautiful gift for celebrating the arrival of a precious little lady. This adorable baby giftbox features the cutest couture inspired onesie alongside a floral print cotton muslin swaddle that is gentle on skin and breathable, yet completely cozy for babies. Includes the K Pure Foaming Baby Wash that is handmade and cruelty free. A great gift idea to spoil the little one!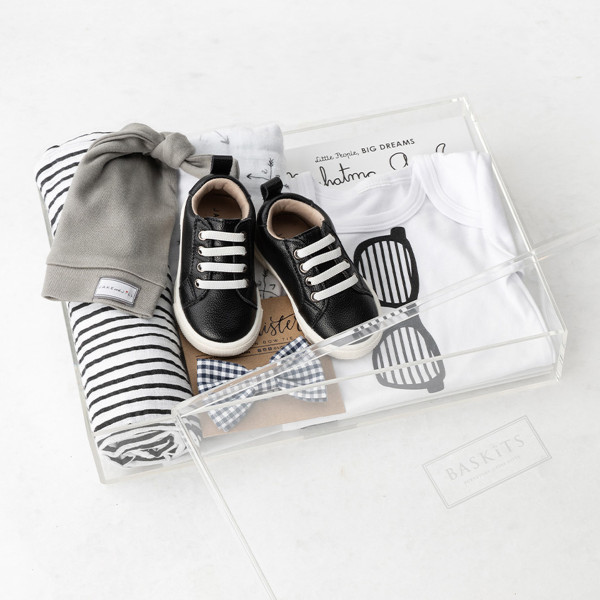 Cool Dude: Send a big congratulations to welcome the newest and coolest little dude! Spoil the new arrival with the most adorable and exclusive giftbox. Included is our exclusive Jake and Jill Knotted Beanie, sunglasses onesie and sporty high top runners, plus a dapper gingham Little Mister bow tie to complete the outfit.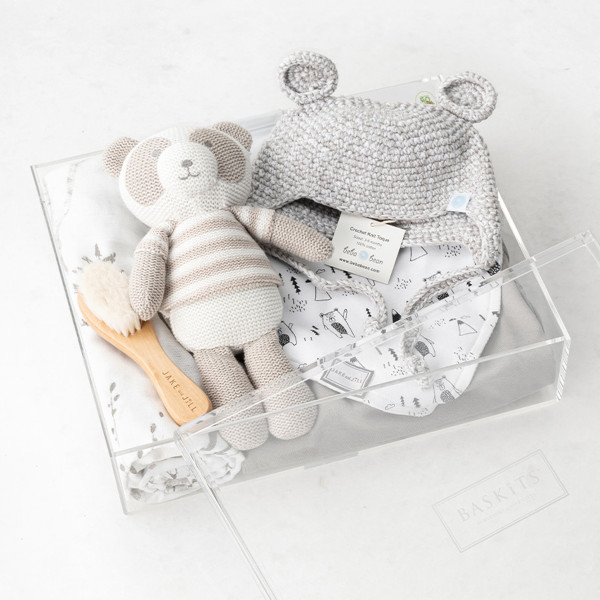 Baby Bear: The sweetest and most adorable giftbox to welcome the little one. This baby bear inspired giftbox comes with premium products you can be excited to gift. The set is beautifully designed in a lucite box and comes with many of our exclusive Jake and Jill products including a tree patterned 100% cotton muslin swaddle that is gentle on baby's skin and breathable, yet cozy. The perfect baby gift for the newest little cub in town.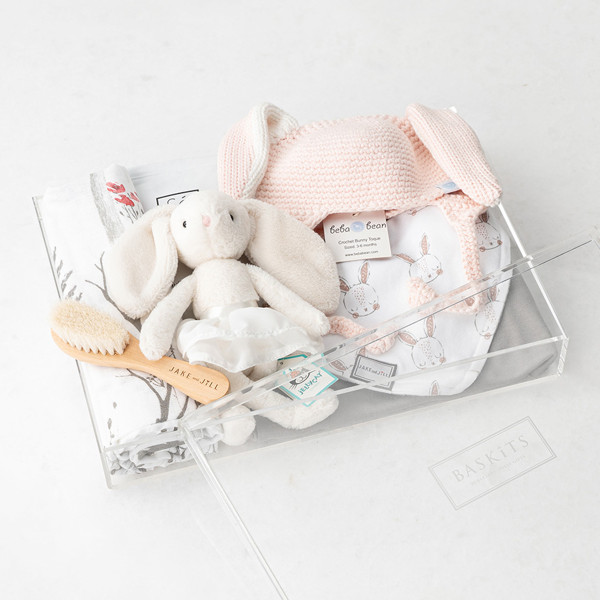 My Little Bunny: Send big welcome wishes on the arrival of a new baby girl with a gift as cute as her ! With an adorable bunny ear hat from Beba Bean, a grey cotton onesie, the cutest bunny bib and much more, the little one will be showered with the very best baby gift from Baskits Inc.
Design your own custom baby gift with Baskits! Include products from our exclusive and adorable brand – Jake and Jill! Our brand is filled with luxurious baby products of the highest quality. From 100% cotton cable knit sets to 100% cashmere blankets, you will fall in love with our Jake and Jill line of premium baby products.
Create your own baby girl gift box by including our 100% Cotton Floral Muslin Swaddle, our adorably stylish Coco Chanel onesie, with our Jake & Jill Ballet shoes to complete the look! Or include our 100% cotton blue cable sweater, hat and blanket set for a unique baby boy gift that will keep him warm and toasty.
With sunny days ahead this Spring, it's time to bust out the shades and cute outfits. These adorable onesies for spring are available in multiple prints including Poodle and Cool Shades. Pair it with some fun sunglasses and your baby will be ready for their first outing. Raising the bar for comfort and style in these 100% cotton outfits for the coolest newborn in town to enjoy the spring weather.
The finest and highest quality baby gifts, including baby gift baskets and baby gift boxes. We offer the best baby gifts, personalized baby gifts and baby bundle gifts. We are your leading source for any baby gift basket. The best Gift Baskets Delivered Across Canada & USA.
Shop the best in unique baby gift baskets and personalized baby gifts to celebrate one of life's most special occasions...the birth of newborn babies, toddlers and children of all ages. We specialize in one-of-a-kind keepsake baby gifts that are practical and adorable for new arrivals and their proud new parents as well as stunning corporate baby gifts for company and business gifting employees, clients, administrative staff or co-workers.
Here are some of our favourite baby gift baskets to celebrate spring births: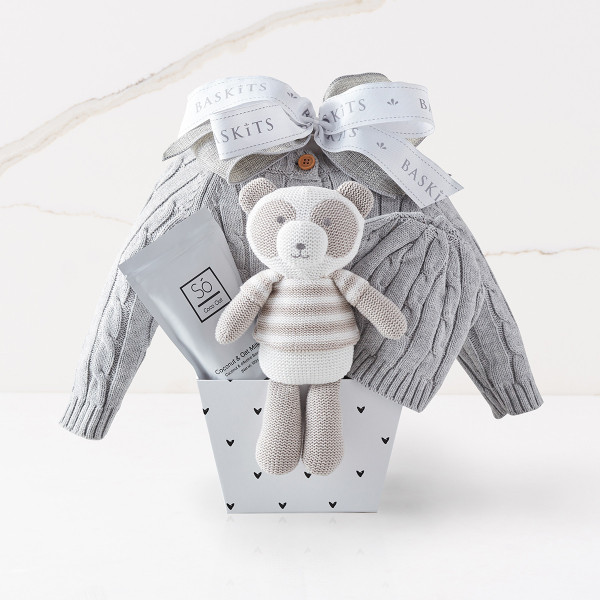 Pipsqueak: Send your congratulations for the new baby with the Pipsqueak Gift Basket. Featuring our exlusive Jake and Jill cable knit sweater with a matching hat. Wrap baby up in this soft, 100% cotton button up cable-knit cardigan and toque set that will keep baby warm. (Available in pink and blue also). Designed in a decorative heart print base, the set is complete with a sweet knit plush panda bear and 100% organic and eczema friendly Coconut & Oak Milk Bath.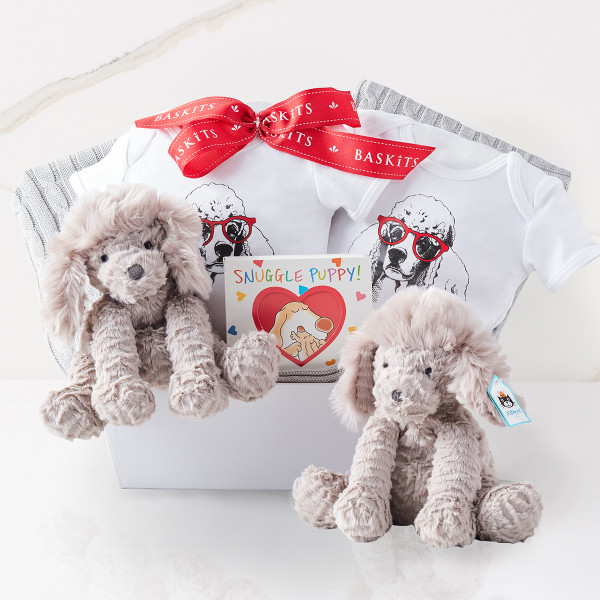 Twins: Send double the best wishes on the arrival of the new dynamic duo. Our twins gift basket features our exclusive Jake and Jill line of products including matching poodle onesies and 100% cotton cable knit blankets. The set is complete with a snuggle puppy book and the softest plush Fuddle Wuddle Poodles! This adorable collection is the perfect gender neutral baby gift for expecting parents and baby showers too!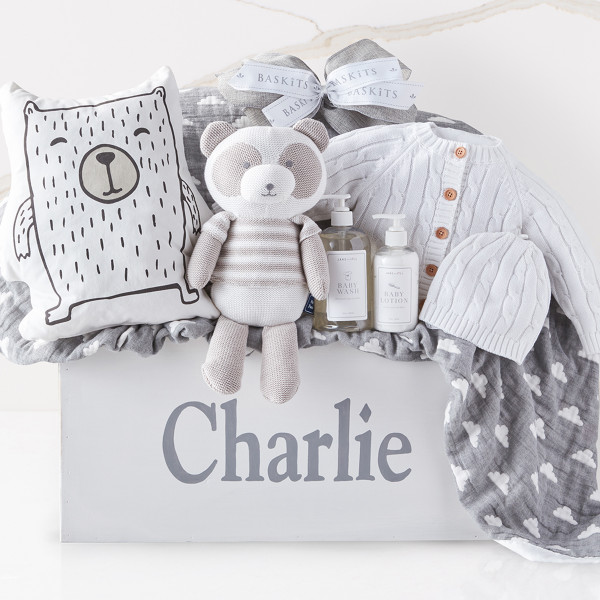 Munchkin: Our personalized hand-crafted wooden toy box is filled with luxury baby gifts that have become a customer favorite for years! This treasured keepsake features a baby safe panda plush, Jake and Jill body wash and lotion, along with a white cable knit hat and sweater set, a full-sized cotton Jacquard throw and more. The little one sure will be cozy with chic package!
We carry a wide variety of brands and collections. Everything we make is handcrafted with pride in Toronto, Canada, and backed by our 100% unconditional satisfaction guarantee. Delivery is available throughout the U.S. and Canada and we also have fully-stocked store locations in Toronto where you can pick up the products in person.
We are a baby gift box and gift basket company created for gifting babies, new parents and their families. We've put together highly rated and thoughtfully selected gifts that the recipient will love and use. That's why we are the go-to curators for baby gift sets for baby shower gifts, new parents gifts and corporate baby gifting.
Trust Baskits for all your baby gift needs this Spring!