Looking for a show-stopping, jaw-dropping, stunner for a special occasion or grand gesture?
Our gift collection contains the most extravagant arrangements, perfect for when only the best will do and for any occasion! From the most extravagant cashmere and personalized gifts to celebrate the arrival of a new baby, to gourmet gifts of congratulations, thanks and more, you can find the most elegant and luxurious baskits for your every need and Baskits.com.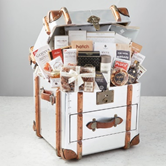 Our most luxurious gourmet baskit, Rosedale is a conversation piece and sure show-stopper that will blow anyone away; arranged in a beautiful keepsake trunk for the home and overflowing with gourmet treats galore, this selection is the absolute perfect gift to inspire a lasting impression.
For every moment in need of a "wow" on your behalf, let Baskits deliver the very best, anywhere in North America! For more fantastic gifts that are second-to-non, visit Baskits.com