Inspired by the time-honored Australian tradition of swaddling an infant in muslin cotton (and an inability to source the proper swaddles for her newborn), founder and Australia-born, Raegan Moya-Jones embarked on a new adventure to develop aden + anais and would introduce the first muslin swaddle blanket to the United States in 2006.
Combining comfort with versatility, quality, and stylish aesthetic, the aden + anais muslin swaddle would soon become a must-have for parents across the globe and would grow from swaddles to bibs, blankets, bedding, clothing and more.
Loved by parents and essential for babies, you can find fantastic products from aden + anais in a multitude of Baskits gifts throughout our collection "For Baby."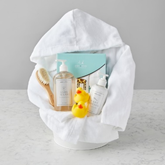 For example, Bubbles (above) features the "jungle jam" 3pc washcloth set in 100% cotton muslin. These washcloths are incredibly soft to the touch yet durable for everyday bath time use, making them the perfect addition to our bath-themed gift baskit.
For more greats gifts containing the best products from aden + anais, visit our full "For Baby" collection at Baskits.com.