Do you ever feel like kids' events and parties pop up out of nowhere?
We've assembled the cutest gifts to make shopping for kids a breeze! From modern toys to classic games and storybooks, we have the perfect gift baskit for every need.
Where the Wild Things Are (below left) is a fantastic children's classic, best known for its ability to change how people view childhood. Opening the world up into new and exciting ideas, and paired with the cutest toy boat and crown, this gift allows children of all ages and parents to explore the world together.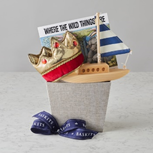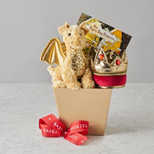 Another of our favorites, selling millions of copies in over 12 different languages world-wide, The Paper Bag Princess (above right) has captured hearts around the globe and has become a household name and one of the best gifts for small children. Paired with a golden plush dragon and a princess (or prince) crown, we invite you to pass along the adventure!
For more great gifts from our For Kids Collection, visit Baskit.com.
Happy Gifting!