Sending the best gifts to the women in your life, no matter what the occasion, is essential!Which is why it's our full-time job to make sure our customers are giving and receiving the very best. Thanks to our team of designers who have carefully curated a fantastic line of elegant and fun gifts for any woman to love and enjoy, finding the perfect gift is now even easier than ever.
From rejuvenating lemon slice face masks to hand-poured soy candles and floral bath soaks, our "For Her" gift collection features elegant bath and spa focused gifts that provide any woman with the luxury pampering she deserves.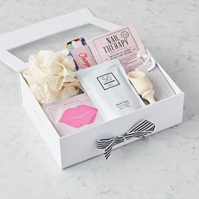 There doesn't always have to be a reason to send a great gift to a special someone. Our Just Because gift baskit (above) includes exquisite self-love gifts from Kocostar, celebrity favorite KNC Beauty and more! A fantastic way to show someone you care, just because.
For more of the best gifts for her, visit Baskits.com.
Happy Gifting!