It's Valentine's Day and love is in the air, a love for chocolate that is!
On this special day that is known for sending sweet gifts to those we love, it seems only fitting that we regale you with some of the chocolate brands we love! What better gift to feature than the Art of Chocolate, overflowing with many of the most decadent chocolates made by small-batch Canadian companies that we adore.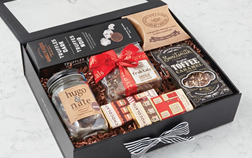 All the way from Canada's East coast, the Newfoundland Chocolate Co. products are not only decadent, but truly Canadian. Each chocolate is sourced, crafted, decorated and packaged by hand, all without artificial flavours and preservatives. Their adorable packaging features the iconic and vibrantly painted homes of St John's.
Dabble & Drizzle is one of the leading brands at Baskits and the best part is, they're exclusive! From Cafe Latte Chocolate Almonds to Dark Chocolate Truffles (shown above), their melt-in-your-mouth gourmet goodies are a must for all chocolate lovers.
Fraktals' Belgian Milk Chocolate Buttercrunch gives everyone that mouth-watering taste experience they deserve. Using organic maple syrup in their buttercrunch core, these treats have two layers of deliciousness that we just have to share!
Wishing everyone a Happy Valentine's Day filled with love, and chocolate!