Shopping for the men in your life (no matter what their age, style of preferences) can be tough! With a collection of carefully and thoughtfully chosen gifts that any man is sure to love, Baskits makes finding the perfect gift for your gentlemen colleagues, clients, family and friends, easier than ever.
For example, a great gift for any occasion, our on-the-go collection of men's premium grooming essentials from Owen & Fred (below left) is perfect for ensuring that any man is always looking fresh, ready to go and Oh, So Dapper.
For a man who values or reflects polish and sophistication, our Perfect Gentleman gift box (below center) is a luxury collection of top of the line gifts in men's grooming, fashion and cocktail preferences, along with some of our favourite sweet and salty treats - quintessential for any man with a love and appreciation for the finer things in life.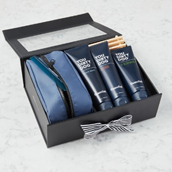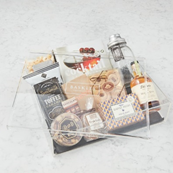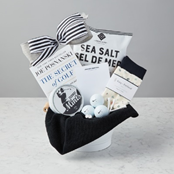 A sure hole-in-one gift for the golf enthusiast in your life, The Perfect Score (above right) features "The Secret of Golf" book by Joe Pasnanski, trendy King x Portland socks, Fairway Mints, golf balls, tees and more; perfect for ensuring your golf-lover is all set for his next tee off.
For more unique gifts for him visit our "For Him" collection at Baskits.com.