Had enough chocolate yet? When it comes to Fraktals' Belgian Milk Chocolate Buttercrunch, they say "a little too much is just enough…" and we couldn't agree more!
Handmade in Aurora, Ontario using the highest quality ingredients, Fraktals gives everyone that mouth-watering taste experience they deserve. Using organic maple syrup in their buttercrunch core, these treats have two layers of Belgian chocolate (original milk and new 70% dark chocolate), and are finished with the perfect sprinkling of raw cashews. This artisanal treat is handmade in small batches from the stirring of the buttercrunch to the hand tied ribbon. On top of that, Fraktals is proud to be non-GMO and gluten-free with no preservatives!
Fraktals' chocolate treats are a long-time favorite of both our customers AND our design team, which is why you will find them front and center in many of the gifts within our Gourmet Collection.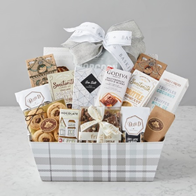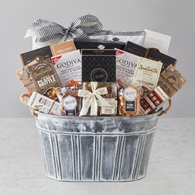 Find our delicious Fraktals and much more at Baskits.com
Happy Gifting!