This January 25th marks the 2020 Lunar New Year and Spring Festival! Being the Year of the Rat, a symbol of wealth and surplus, we have curated a fantastic collection of gifts that are perfect for sending along with your best wishes for a very Happy Chinese New Year.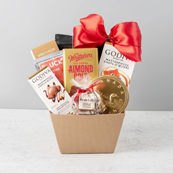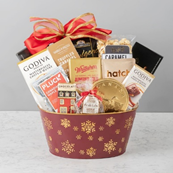 Our Year of the Rat Baskit is the sweetest gift in reds and golds for the best of lucky wishes and is fantastic for sending to friends, family, clients and colleagues. With 8 delicious treats, this gift can also be shared among many and features everything from Fraktals' Buttercrunch and Godiva Milk Chocolate to Caramel Chocolate Truffles and even a large chocolate coin (as it is often custom to give gifts of both money AND chocolate!).
Looking for an even larger selection of decadent goodies to celebrate the Lunar New Year? Our Happy Chinese New Year Baskit is overflowing with our favorite treats from the very best brands. This lucky gift also features a Baskits exclusive, larger than life, gold foil chocolate coin.
For more great gifts that are perfect for celebrating the Chinese New Year, visit our Chinese New Year Collection at Baskits.com.
Happy gifting and Happy New Year!